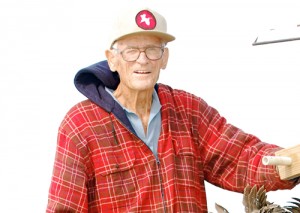 Chester Smith
April 8, 1921 – June 26, 2011
Photo by Peggy Wilkinson
Chester Emrow "Pop" Smith, age 90, passed away June 26, 2011 in Baytown, Texas. He was born April 8, 1921 in Arkinda, Arkansas to William Hezekiah Smith and Belzora Bessent, the youngest of five children. His older siblings were Thurman, Newman, Opal and Fred. Soon his parents returned to Texas, and young Chester grew up during the Depression near Seadrift and Port O'Connor, sometimes helping his older brothers with their commercial fishing operation from a wooden sailboat. Times were tough, and sometimes they survived on seafood or prairie chicken (abundant then, but now an endangered species).
He and his mother followed his older brothers to Pelly, Texas and he graduated from Robert E. Lee High School in Baytown, Texas in 1938. While serving in the U.S. Army Air Corps, Chester met Ilet Haney in Indiana and they fell in love. 1946 was a big year – Chester received an Honorable Discharge, and he and Ilet were married and settled in Baytown. He joined his brothers at the Humble (Exxon) Refinery, and worked 32 years before retiring. This allowed him to spend more time in his beloved Port O'Connor, Texas – where he loved to spend time outdoors fishing and hunting and enjoying nature.
In 1986, Audubon Texas hired Chester to be an Audubon Warden to manage Sundown Island in Matagorda Bay near Port O'Connor. Pop took on his new roll as environmentalist with a zeal that captivated others, as he recruited volunteers and supporters to help with his new mission of protecting the birds. His 25-year career with Audubon was highly successful, and he was credited with helping save the Brown Pelican population from near-extinction in Texas.
In 1988, Audubon Texas made him the first recipient of the Chester Smith Outstanding Conservationist Award. He was featured in the 2003 book "The Face of Texas", the 2007 Texas Parks & Wildlife Documentary "Chester's Island", and the 2010 Audubon Magazine article "Coast Guard".
Chester's 90th birthday last April was a grand occasion held in Baytown with more than 200 family and friends celebrating with him. The annual bird census trip in May was one of Chester's last visits to Sundown Island. He drove the boat carrying eight volunteers, and at 90 he was still "in charge" as usual. A week before his death he was once again in Port O'Connor enjoying the fishing.
Chester's passions included a deep love for God, family and friends. He helped build ten Home Missions Churches, and established a scholarship fund at Texas Bible College. July 4th family reunions became a tradition, and Pop was always thinking of distant relatives and other friends to invite to include in the reunion festivities.
Chester is survived by his beloved wife of 65 years, Ilet Joy Smith, along with their eight children: Linda (Dave) Barley, Danny (Cathy) Smith, Bonnie (Randy) Fluitt, Connie (Walter-deceased) Knepp, Susie (Terry) Cecil, Nancy (Rick) Posey, Peggy (Tim) Wilkinson, and Robin (Phil) Brannan, plus 14 grandchildren and 23 great-grandchildren. He is preceded in death by his parents, three brothers, one sister, and two grandsons.
His funeral service was held June 29 at Peace Tabernacle United Pentecostal Church in Baytown; burial followed at Cedarcrest Cemetery.
Memorial donations may be made to Lighthouse Ranch for Boys (P.O. Box 238, Loranger, LA 70046), Audubon-Texas "for Sundown Island" (10750 Pleasanton Rd, San Antonio TX 78221), or Sterling Municipal Library (Mary Wilbanks Ave, Baytown, TX 77520).
Online tributes may be posted at chesterpopsmith.wordpress.com.