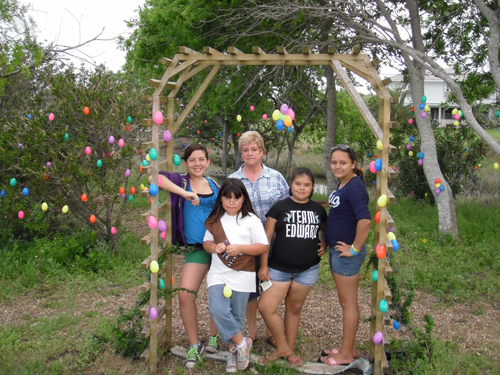 Seadrift Girl Scouts Get Festive for Easter
On Saturday, March 31, 2012 the Seadrift Girl Scout Troop #95105 paired up with Nan Burnett from the Seadrift Chamber of Commerce to give the Seadrift Nature Habitat at the bayfront some Easter spirit! The girls hung hundreds of colorful eggs donated by the Chamber from the various trees and plants.
The girls and Troop leaders Brianne Key and Rita Carter would like to send a huge Thank-You to the Chamber for the donation. Also special thanks go to Mrs. Burnett for her creativity and effort which made this project possible. Thank-You!
(pictured above: Kellie Blevins, Taysia Navarro, Nan Burnett, Julissa Banda, Krislyn Key)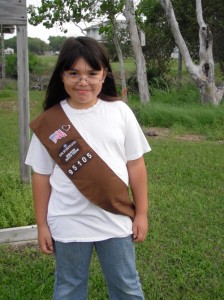 Top Seller Award
Taysia Navarro of the Seadrift Girl Scout Troop #95105 was recently awarded Top Seller Status with the Girl Scouts of Greater South Texas 2011 Fall Product Sale. An awards banquet sponsored by the council and its president was held on March 31, 2012 in Robstown, Texas, honoring Taysia and other winners.
Congratulations, Taysia on your accomplishments!