What an awesome Summer, 2013! Your Chamber directors, members and even ones that are not in our local chamber deserve a huge pat on the back. This group went above and beyond to represent our great little town and help us achieve a dream that we had when we came aboard in the beginning of 2013.Our goal was to work towards making some changes at King Fisher Beach—with one of the goals being a new pavilion that could be used by everyone. We also wanted to host some events in a "beachy" setting.
The Chamber of Commerce was approached by Russell Cain Real Estate and POC Rentals with a Labor Day weekend idea: Russell and Brenda wanted to give something back to POC. Russell told us that he wanted to have Larry Joe Taylor on the beach in Port O'Connor. He said we could make a festival (in which the Chamber could make some money) or just have a music on the beach type event. The Chamber directors met and voted to make it a festival. It grew from there—however without everyone's help, suggestions and ideas, it would not have been the huge successful event that it was!
Without the folks that sent in sponsorship money and the ones who donated equipment and their time, we would not have been able to do this event successfully.
We have tried very hard to compile a list of folks we want to THANK and hope we do not forget one person in any way.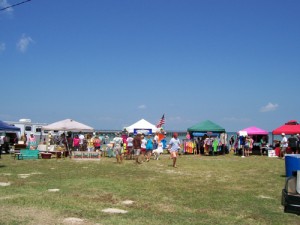 Thanks for a Successful Labor Day Beach Bash!
Sponsors:
Russell Cain Real Estate
Port O'Connor Rentals
JMI
OWI
Mechanical Man
Island Liquor
Hartman Distributing Co.
Warrior Supply,Inc.
Killebrew Inc.
Port Lavaca Auto Group
Funk it ! Fish
Palm Tree Custom Builders
Port O'Connor Equipment Rental
Coastline Trailer Manufacturing
Lone Star Boat Storage
Coastal Bend Marine
Rain King,Inc.
Barbara Briggs
1st National Bank of Port Lavaca
KMKS Hot Country 102.5
Vinson RV Park
Sonny's Marine
Bill Pekar & The Rainey Brothers
Nick Vezosa & the Noble Union
Treasure Chest
POC Rods
Republic Waste Management
Ozarka Spring Water
Feel'n Lucky Charter Service
Josie's Mexican Restraunt
Kings Rental
Shrimp for boil donors:
Boathouse Bait
Fishing Center
Froggie's Bait
Jesse Stringo
Linda T's
Cathy's Restaurant
Beacon 44 Sfd. Mkt.
Clark's Seafood

T-Shirt Designer
Hunter Junek
Helpers & Workers
Norman Teel
Brian Webb
Lori Thomas
Lorri Turner
Helpers & Workers, continued…
Kim Jones
Connie Barrinettes
Freda Howard
Jerry Lichac
Sledge Parker
Darla Parker
Michelle Davis
Doug Walker Sr.
Bernice Shell
Jack Shell
Johnny Williams
Linda Tippit
Andy Wall
Danielle Wall
Kimberly Bennet
Jim Vuichard
Riley Hernandez
Lauren Zwereschke
Pat Hatcher
Trish Fielder
Jeremy Thumann
Skip Ellis
Sherilyn Carroll
Carolyn Garrison
Sheryl Haynes
Mickie Vossler
Wade Vielock
Lauren Vielock
Cliff Blank
Karen Ellis
Casey Sandidge
Debbie Ulrich
Bill Moore
Lynn Smith
Laurie Junek
Mitch Brownlee
Ron Elkins
Larry Robertson
Ginny Robertson
Barbara Crouch
Billie Jo Pitonyak
Jimmy Crouch
Sam Smolik
Stephanie Smolik
Jeremy Riddle
Julian Garcia
Junior Barrinettes
Cameron Klein