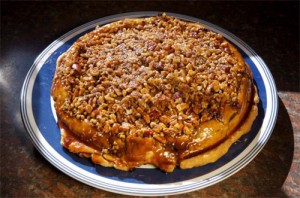 Apple Raisin & Pecan Pie
This recipe was shown to me by a sweet little lady in Hackberry, Louisiana named Amy Elmer. She was the head cook in the kitchen at Hackberry Rod and Gun Club, and was kind enough to allow me and the film crew from the Academy Outdoors Television show to shoot a few episodes in her kitchen between the waves of hunters coming through for lunch and dinner. Boy, howdy, you should have seen the massive pots of gumbo and Etoufee they prepared. Awesome. Anyway this was a favorite pie recipe of Amy's, and I have made it several times. It is without a doubt the best pie I have ever tasted, and it's not that difficult to make. I hope you will enjoy it too!
• 1 package – Pillsbury's pie crust – 2 pieces top and bottom – set out for 20 minutes before opening to make handling easier
• 1 glass pie pan
• Butter
• 2 cups pecans – chopped coarsely
• 1 cup – dark brown sugar
• 6 apples- Braeburn or any other firm and juicy variety- peeled, cored and sliced thin
• ½ cup – raisins- you can use dried cranberries if you prefer
• 2 1/2 Tablespoons- flour
• 1/2 tsp – cinnamon
• 1 cup sugar
• A pinch of nutmeg
Preheat oven to 350 degrees.
Place a double large sheet of foil under pie pan rack-the juices will tend to bubble out of the shell.
Line the inside of the pie pan with butter.
Place the pecans in the bottom of the pan.
Now- place the brown sugar on the pecans and gently pat down.
Place the first pie shell over the brown sugar and pecans and be sure to make the shell hang over the edge of the pan slightly.
Place the flour, sugar, cinnamon and nutmeg in a large bowl and stir together well.
Sprinkle the dry mixture over the sliced apples, and stir gently to combine.
Place the apples in the pan on top of the first pie shell. (Careful it's a lot of apples and it will look really high but it's OK.)
Add the other pie shell and pinch the edges of the two crusts together.
Cut a few slits in the top of the pie to allow the steam to escape during baking.
Bake for 1 hour and 30 minutes.
Then – remove and carefully place a plate on the top of the pie and flip over onto the plate.
Lift off the pie shell carefully scraping any pecan bits over the top of the pie.
Enjoy!!!
Bryan Slaven
The Texas Gourmet
* Texas Gourmet products available online at: www.texasgourmet.com