Our hats are off to those brave individuals who despite temps in the 30s, braved the wind and waves to make the crossing from Freeport to Port O'Connor delivering Christmas toys for children in our area. Although they were offered the option staying put and having some folks from Port O'Connor come and pick up the toys, these stalwart boaters determined the toy run would go on. A few boats had to turn back, but 16 made it through to the finish even though most at some point ran aground.
After completing the hazardous trip, these selfless fellows and gals helped unload their toys and bikes, then after a very short rest time, got their boats ready and were off again down the Intracoastal participating in Port O'Connor's Annual Lighted Boat Parade.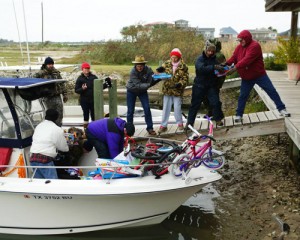 Lots of Toys for the Kids
Members of the Port O'Connor Service Club and many other local volunteers bundled up against the cold to unload the Toy Run boats, pack several trailer loads and transport for safe keeping. The next morning, they were out unloading the toys into the Community Center and packing them up for distribution to children in our area.
Marie Hawes, Chair of the Adopt-An-Angel program, reports that in addition to 60 Port O'Connor children, there were at least 2,000 kids from 3 counties who received toys thanks to the Toy Run. "It was the most toys I've ever seen," she said, "and the most volunteer help we've ever had."
First, our local "Angels" are provided with toys to supplement the clothing that local Adopt-An-Angel donors had provided. These gifts help to make a great Christmas experience for kids who might not otherwise have much.
Next, representatives from 12 different organizations were allowed to choose toys, benefiting such groups as The Harbor, Brown Santa, Bluebonnet Youth Ranch, and others.
A family in Victoria was also the beneficiary of toys. They had lost everything in a house fire. Marie watches the papers around this time of year to see if Toy Run and our local volunteers can help in this way.
Photographer Mike Hessong has posted Toy Run and Boat Parade on Facebook and furnished photos for Dolphin Talk. Although he has taken many photos of the Boat Parade, it was his first experience up close with the Toy Run arrival and preparation for the Boat Parade.
"What an unbelievably touching way to truly 'see' the Christmas Spirit first-hand," he said.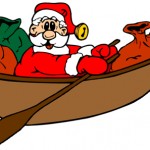 Thank You, Toy Run!
Thank You, Adopt-An-Angel donors and volunteers!
Thank You, All who helped make this a Merry Christmas!