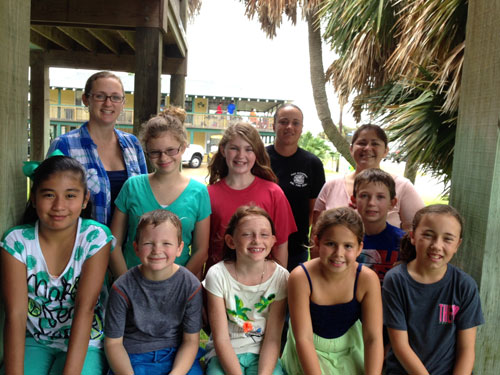 Students representing each grade at POC Elementary and a representative from middle school gathered on August 30 at the home of Joe and Vera Wiatt to enjoy ice cream and talk about their role as Advisors to the Friends of the POC Library.  Students will be meeting with the adult board during the school year to work on various projects that will promote the love of learning, reading, and the use of the library.
See "Moving Into Autumn With Friends" on page 5 of this issue to see how you can help Friends of Port O'Connor Library in their effort to build a new library/learning center.
Pictured above: Front row: Amy Resendez, Luke Doggett, Leah Lucy, McKenna Guevara, and Brooklyn Redmond. Second row: Carly Rosenboom, Sarah Doggett and Kyle Doggett. Adults: Board member Melissa Doggett, Assistant Librarian Misty Redmond and Board member Roxanne Ochoa. On the advisory board, but not pictured: Nicholas Ragusin.