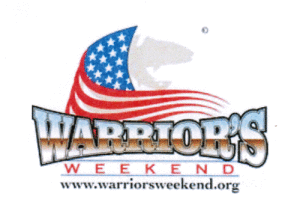 Welcome Our Wounded Heroes to Port O'Connor

Saturday, May 16 – Warrior's Weekend
• To take a warrior fishing, please contact: www.warriorsweekend.org
• To assist with night fishing at The Sanctuary, contact Linda Hundley at 361-920-3427.
• To offer lodging call Bill Tigrett at 361-983-2671.
• To help with anything else (and there's lots to do) ask anyone already assisting. Find them at Port O'Connor Community Center beginning Wednesday, May 13.
The soldiers and heroes of Warrior's Weekend will be here in just a few weeks. Having them here transforms our small town in a way that no other guests can or will. We are fortunate to have the opportunity to meet some of the few true good guys left in our country today. Many of you will be offering guest housing to some of our warriors. Here are some thoughts from one family who has done so for many years. The names have been changed to protect the privacy of this soldier.
When Mike first came to stay will us five or six years ago, he was in rehab after being severely burned and losing an arm in a roadside bombing. He was not progressing and did not care. He appeared frail, depressed and hesitant, but he was here because one of the directors told him it would change his life to come to Port O'Connor. He said he doubted it. He ate little, caught two or three fish, talked softly and sparingly, but was extremely polite and profusely grateful. After he returned home, we received a short note of thanks and a request that he might return next year, but we were unsure if we'd see Mike again.
The following year Mike returned to stay with us. He had gained a little weight, gotten a new prosthetic, and was much more animated. He caught several fish and excitedly took them home to grill. He quietly told of how Warrior's Weekend helped him decide to try the new prosthetic. He hugged us before he left and asked if he was welcome to return. We told him of course.
That second year was a real turning point for our friend Mike. He began calling us occasionally. He wrote a note about some computer training he had decided to take, but questioned if he could do it with 'one burned arm and one fake one. He is working at the top of his field in computer programming today.
Years 3,4,5 and so on brought a familiar stranger to our door as Mike grew and changed and recovered. He finished rehab, joined a support group, participated in an adaptive sports team, even dated a little. In one later year, he reconnected with his family. It was very emotional for him when he told us about it. He had avoided them for a long period of time.
At some point, He began volunteering with a veterans group and started meeting people socially. He wrote about a new girlfriend named Ashley in his Christmas card a year later. It was very exciting. Finally, we got an incredible phone call. Mike wanted to come again and he wanted to bring someone with him. We thought it might be Ashley, but we were in for a surprise.
Mike showed up, happy, healthy and full of life. He was driving, working out, and seemed truly happy. He quietly introduced his friend Sean, and when he opened the door to help Sean out, it took our breath away. He stooped to help Sean, a new amputee, out of the car and into his wheelchair. When introducing us, he said, "I brought Sean for a little POC Warrior's Weekend therapy. I told him it would save his life. It sure did mine!"
Mike married Ashley this year. They have a baby on the way. We are blessed for having shared this journey with our soldier friend Mike. He feels like part of our family.
So, whether offering guest housing, cooking breakfast burritos, driving a golf cart, building a sandcastle, cleaning a fish or captaining a boat; don't miss out on Warrior's Weekend 2015. There are so many reasons to volunteer and lots of need for willing workers. You do not have to have special skills. You can call, come to the meetings, or just show up. I promise they will put you to work. You will be changed from the experience. And who knows, you just may impact someone who needs it more than they can ever say.
Our guests, those soldiers, the defenders of freedom, just ordinary men and women living extraordinary lives; they will leave boot prints on your heart. Guaranteed!