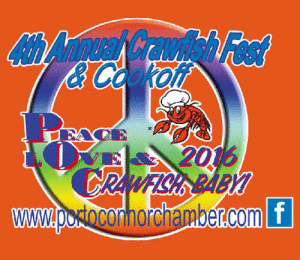 The 4th Annual Crawfish Fest & Cookoff will be held on Saturday, April 30th. This event has become the major fund raiser for the Chamber of Commerce, and has been a huge success in the past. Each year, it gets bigger and better! Without this event, the Chamber would not have been able to fund the new pavilion on King Fisher Park. Funds from the continuing Festival will go toward continuing improvements for our community.
Starting at 10:00 am, gates will open to the public with lots of food, crafts, live entertainment, kids activities, horseshoe tournament, and other contests. Along with our great raffle items, the Chamber will include two HUGE raffle items, that will carry through until our Fireworks Display for drawing. One, a beautiful 'Seascape" King size quilt, and other, a Core AR15/scout. Raffle tickets for these items can be purchased for $5 or 5/$20.
Of course the cook-off itself is a huge success, with awards for a Bloody Mary contest, best decorated booth, and this year we will have a People's Choice Award. Visitors can purchase a wristband for $20, and receive five voting tokens. With the wristband, you can sample cooker's crawfish, and vote on your favorite. The Chamber will also be selling Crawfish plates for $20, which will include 3 lbs of crawfish, corn and potatoes. And if you don't like crawfish, there will be plenty of local food vendors.
Admission will be $2 for all adults and children six and under are free. Great Cajun entertainment with Boudreau Zydeco band, will be opening and closing for our local Tom Dorn and the Seadrifters. You can't go anywhere and have this much fun, all on the front beach of Port O'Connor!! SEE YOU THERE!!

POC 4TH ANNUAL CRAWFISH FEST & COOKOFF SCHEDULE OF EVENTS

7-10 AM: Vendor & Cooker Check-in & Setup
10 AM Open to Public
11:00 AM – Kids Games begin

11:30 AM: Crawfish served until sold out
12-2 PM: Boudreau Cajun Zydeco Music
12:30 PM: Bloody Mary Contest Judging
12:00 PM: Horseshoe Tourney Registration

1 PM Horseshoe Tournament
2 PM Boiled Crawfish Judging

2:30-4:30 PM: Tom Dorn & the Sea Drifters
3 PM Best Side Dish Judging

4 PM People's Choice Turned In

4:30PM Crawfish Eating Contest

5 PM Awards Announced
5-7 PM: Boudreau Cajun Zydeco Music