Although once again battling the weather, Warrior's Weekend X was successful thanks to our great donors and volunteers. Over 900 wounded heroes and caretakers took to the bays of Port O'Connor and Port Lavaca to enjoy a day to forget the cares of their wounds, surgeries and doctors' appointments.
It is always so gratifying to see the 400 plus boats awaiting our heroes in front of Froggie's or at the Sanctuary. Every year we worry a bit whether or not we will have the boats we need but they always sign up and show up. Thanks especially to Robert Sanders (Froggy) and his folks for putting up with the mess our heroes made trying to get in out of the rain and thanks so much to the gracious folks of the Sanctuary who make loading our heroes on boats so much more efficient. This is a very big team effort and it takes all of us to make it work.
You should be able to see more pictures of the event on our Facebook page, Warrior's Weekend–Texas and shortly on our website, www.warriorsweekend.org. As you read this, we have already been involved in two fundraisers for next year and more are on the way. This is a must if we are to continue, and if you could hear the comments/compliments of the heroes, you would know we should.
There are many stories associated with Warrior's Weekend and I will give you the "gist" of just one of them. We had a warrior who really wanted to attend—his first time—to honor his fallen battle buddy, Kerry Danyluk of Cuero. Little did he know that Kerry's mom, Diane, flew all the way from South Dakota to attend Warrior's Weekend in honor of her son and they got to meet. What a special time that was for both of them. The stories go on and on and keep us going on also.
As mentioned before, plans are underway for Warrior's Weekend XI which will be held the weekend of 19-21 May of 2017. Our largest fundraiser in Victoria, the Muster, will be held on 25 March of 2017 but stay tuned for other opportunities to give/donate to this most worthy cause. We hope you were able to enjoy the sand sculpture and Warrior's Weekend Field of Honor along with the weekend and please help us continue to let these heroes know that their service and sacrifice has not, and will not, be forgotten by the patriotic folks of South Texas.
We are always looking for good volunteers so please don't hesitate to contact us and we'll put you to work honoring those who deserve it the most as far as we are concerned.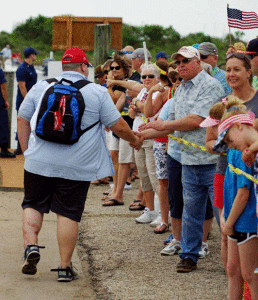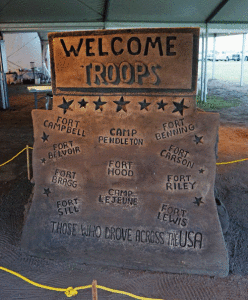 Photos by Mike Hessong