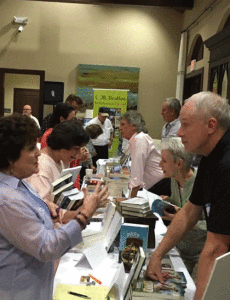 "A picture is worth a thousand words…" holds true for The Second Annual Author's Dinner held on September 17th at the Sanctuary at Costa Grande. It was an exciting, enjoyable evening where book lovers and TX Authors got to know one another over dinner that was catered by Hurricane Junction out under the Texas stars. The on again/off again rain showers completely stopped just in time for all the fun activities to be surrounded by the beautiful background music provided by David & Kimberly Mason.
Our turquoise tablecloths and sponsor-filled placemats set an inviting place for interesting conversations. Then many guests, while munching on the Subway chocolate chip cookies that were donated by Margaret and Mary Ann Claiborne, bought the beautiful centerpieces that were donated by Ursula Price.
Many hands and hearts from the Executive and Advisory Boards put in hours of work to bring about the success and the great memories. Our many sponsors include Sam's and HEB as well.
Our MC and President of TX Authors Assoc. Alan Bourgeois led the Good Cheer with Sangria and Snacks to the Dine and Delights with grilled-on-site chicken and pork to The Sales and Signings of the available books to The Silent Auction.
We will remember when Curt Locklear played his banjo and when David Mason joined him on his guitar for our entertainment. Once again, The Texas Authors donated a huge number of brand new books to our new library. The 16 authors were pleased with the sales of their books and the Friends of the Port O'Connor Library were very pleased with the funds raised during this fundraiser. We sincerely offer a special thanks to all our supporters. Please like our FaceBook page and look through the many more photos of that evening.