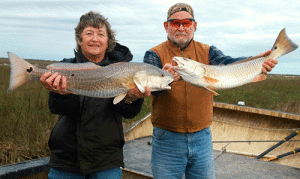 WOW!!!!! What a great Duck Season combined with some awesome Fishing. We were wore plum out by the end of January. The numbers were off the Chart. We had some great weather. COLD Fronts kept an influx of Ducks and Geese in the area, combined with plenty of food for them in our County made for a barn burner season. The Reds and Trout spun there annual webs Pre and Post Fronts. Which made for a Great Freeze Out Tournament. It's a good format with some heavy sticks fishing it. Congrats to Jimmy Burns and his Fishing Team, Team Waterloo. Local Veteran Guide, Gary Gray had a monster trout and Big stringer that made for a close Tournament.
Hey, Goose Conservation Season is wide open. The Legendary Goose Guide, Captain Jake Huddleston is staying on the remaining snow geese, posting good numbers when the weather and geese cooperate. We conversed yesterday about the northern migration and he thinks we have a few weeks left. The great thing about Jake is he goes above and beyond to put you on the X.
How many of your hunting dogs are depressed now that hunting season is over? Ryder is so depressed he is seeing a Dog Counselor twice a week. Not Really, I am having to throw bumpers for him though to help ease him back into post waterfowl season. Retriever Trials are starting up around the State. I called up Captain Nathan Beabout a few days ago and he has pups that are on a Started Training Program and they will be ready to hunt by next waterfowl season. Believe me, if you are a busy person and want a great retriever, you need to get a deposit on them 2 puppies, quick! Capt Beabout is a fantastic duck guide/ hunter and knows how to get a retriever ready to duck hunt and make a life long hunting buddy. Purchasing a started dog gets you in on the ground floor of a pup without all the small headaches that come with a new dog, Teething, chewing, house training, etc.. If you are even slightly interested in a new Retriever by next season give me a call and I will get you in contact with Nathan.
January was a great month for Ducks, Geese and Fish. February is looking to be a Chart Topper as well. The Texas Trophy Trout Hunters are already posting Big Girls on line. Port Mansfield, of course Baffin, and Here on the Middle Coast are producing solid trout. Captain James Cunningham and I went on a Big Trout Mission today. Tops and Corkys were the bait of choice. Captain James took off on a deeper wade where he had guided a trip a few days prior. He started with a Baby Chrome Spook. I went shallow with a Black & Chrome 1 knocker. I usually don't out fish the Master but the shallower bite was perfect for throwing top water baits. Capt James switched to his favorite Corky since the trout weren't responding and immediately in 3 casts caught up with me. The Trout that were in the little deeper water wanted the slow sinker. We ended up the morning wade with our 5 apiece and only had 1 sow roll over my top water with no connection. Probably just as well so a battle wouldn't have worn her out before she spawns in a few weeks. The February conditions are cycling like clock work. We are looking at another Cold Front so we are going back at it again tomorrow. Matter of Fact, The phone just rang and we are going on a road trip to Port Mansfield for some more Big Trout Hunting. See ya'll back in a couple of days.
Now is a great time to book a top water wade fishing trip here at the Saltwater Lodge. The water is cool, the fish are very hungry and everyone knows now is the time to set a new personal best record or collect a wall hanger.
We are getting some dates booked up already for next year's waterfowl season. Get your calendars out and let's plan a trip.
Call Scott at 361 785 3825 and he will get you set up on a personal itinerary that meets your goals and budget.
Make long cast, Wade for 'em and string a few.