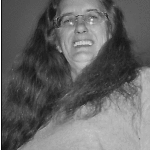 Seadrift – Glenna Jean (Benedict) Statler passed away on June 2, 2017. She was born January 27,1953 in Omaha, NE.
She was preceded in death by her mother, Bernice Anna Marie Benedict; and father, Francis Albert Benedict.
She is survived by her bestfriend and partner of 13 years, Kenneth Marek; her brothers, Harold Lavern Benedict and Dale Richard Benedict; her 3 children, Tomas Bruce Benedict, Angela Sue Benedict, and John Economopoulos; and 6 grandchildren, Amanda Rae Bush, Alexis Danielle Benedict, Autum Starr Benedict, Arianne Jade Benedict, Austin Tomas Benedict, and Lily Ann Benedict.
Thanks to Hospice of South Texas for all their equipment and care.