Thanks to all who donated, bought raffle tickets and volunteered, over 600 wounded heroes from the Global War on Terrorism enjoyed a time they will not soon forget in Port O'Connor on 19-21 May. Over 300 boats and their captains/deck hands waited on the heroes the morning of May 20th to give these heroes a great time on the waters around Port O'Connor and they had the "time of their lives".
Beginning with the fish fry on Friday night put on by Russell Hofer and his crew, the weekend kicked off. Even though many of them are tired from a day of travel, Keith Goebel and his crew, mostly from Cuero, put on a Texas Hold 'Em poker tournament for them and they loved it. They were up again early Saturday morning and had breakfast put on by the POC churches, led by Pastor Erny of the Fisherman's Chapel. The heroes did not lack for "chow".
If you were down at Froggie's to see the weigh-in, you would have seen the great catches by the heroes. There were many large redfish, trout—one was 28"—and a variety of all other species. They had a ball.
As many of you know by now, this is the first year we actually had the heroes send us their paperwork to show they were actually wounded in combat. Although, when you work with the large number we do, some are going to view their wounds as combat related when others might not, we tried very hard to work our system and bring those very worthy. There are many challenges putting something like this together and pulling it off, but our board and volunteers do a great job.
I think the sand sculpture is still up and will be for a while, so go enjoy it as we are already working on Warrior's Weekend XII. For whatever part you had in making WWXI a success, thank you on behalf of our heroes. As long as they love coming and our donors/volunteers keep backing us, we'll keep doing it.
Ron Kocian, President Warrior's Weekend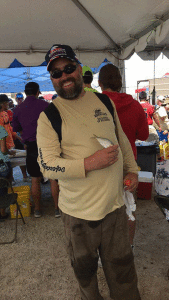 Fish On!
Boat captains from POC, nearby towns and towns much further away gave their time, talent and expertise, equipment, fuel and boat time to allow close to 750 visiting veteran heroes to feel the tug and know the thrill of both the big and the little bite. From the biggest catch winner to the guppy loving guy pictured here, they all reported having a great time on the water and tons of fun catching whatever. It was an extraordinary experience and a first-time fishing for many of the weekend guests. The therapeutic benefits for some of those wounded warriors arriving from hospital therapy and recovery stays were incalculable. .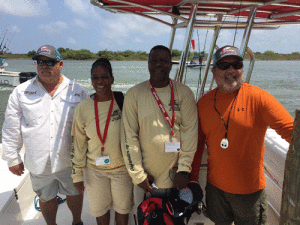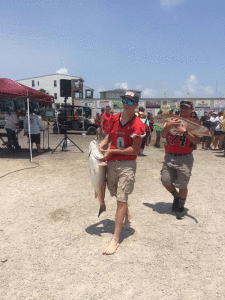 Tour Guide
Lisa Dupree of Magnolia Beach is a Marine Mom with a son currently deployed. She has helped several years with Warriors Weekend, but had a new job this year added to many others. A bus driver transporting heroes to the fishing pier took her on as tour guide. The driver handed her a microphone and gave her free reign. She told our visitors how happy we were to have them, gave them a short tour of our little fishing village, and made them feel like special guests. She said it gave here the chance to personally connect to some of those service men and women and that it was the most fun she had all weekend.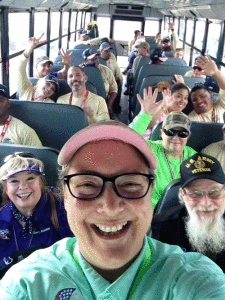 Flounder Gigging at Night
Local business woman Becky Haynes coordinated a special treat for some of the heroes attending WW2017 who needed to limit sun or heat exposure. She recruited almost 30 boat captains who took wounded warriors flounder gigging Friday and Saturday night. She arranged volunteers to clean fish when they returned and even had a small group of locals on hand to greet them and cheer them on as they departed about 9:00 PM.
Becky and her boat captain hosted a wounded hero named Zac and his wife Misty from Louisiana. This boat crew, several other boats and recruited friends put extreme effort into accommodating the needs of wounded warriors. This young hero was a triple amputee, losing both legs and one arm in an explosion. They loaded his wheelchair and adjusted seating, equipment and plans to ensure Zac was comfortable and able to fish. Both he and his wife caught fish and had a special time pictured here.
One of the volunteer captains was our own VFD Chief Nathan O'Neill pictured here. They had great success as you can see. Thanks to these special volunteers.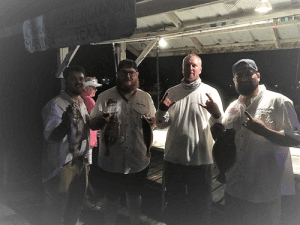 Articles & Photos by Kelly Gee