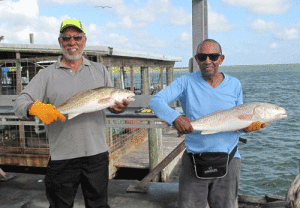 For several years now my friends from the Caribbean region have been coming to POC to enjoy fishing.  Joe Shako, pictured on the left, is originally from Guyana and lives in Jamaica.  Winston Ledgister is a native Jamaican.
With high winds and off-color water it was very difficult to find and catch fish but we were lucky enough to land a few good redfish during the week.
As usual lately the seas were too rough for an offshore red snapper trip.
These guys really enjoy fishing and it is a pleasure to take them as their positive attitude is contagious. -Dave Pope