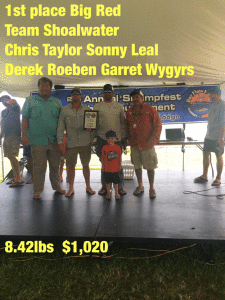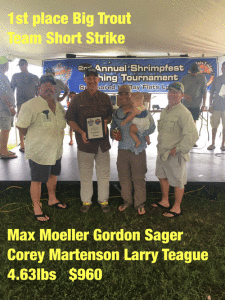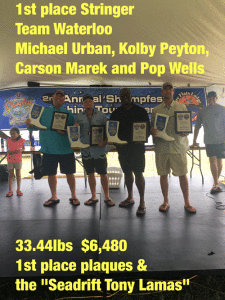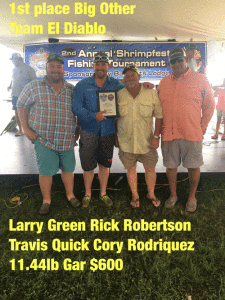 The 2nd Annual Seadrift Shrimpfest Fishing Tournament sponsored by Bay Flats Lodge was held on June, 17th 2017. The event was held at the Seadrift Bayfront during the 37th Annual Seadrift Shrimpfest. 36 boats battled it out for over $15k in winnings. 1st place combined stringer was won by Team Waterloo who took home $6,480. 2nd place combined stringer was won by Team Last Cast who won $3,240. 3rd place combined stringer was Team Shoal Out who took home $1,080. 1st place big red was Team Shoalwater who won $1,020. 2nd place big red was Team Short Strike who won $510. 3rd place big red was Team KGK Law who won $170. Team Short Strike won 1st place big trout and $960. 2nd place big trout was Team Top Fin who took home $480. Team Awesomeness took home $160 for 3rd place big trout. 1st place redfish spot pot winner was Team Get-Got who won $775. 1st place Big Other was Team El Diablo who won $600 for weighing in a 11.44lb alligator gar.
Fish fillets from the tournament were donated to the Feed My Sheep program of Calhoun County for distribution to those in need. The 2nd annual tournament was able to raise $6k in funds that will be donated to local Calhoun County organizations in need. "We are very thankful to Bay Flats Lodge for filling our title sponsor spot, all of our associate sponsors, volunteers, and teams who signed up to fish with us this year. Together we were able to raise much needed funds to give back to the communities of Calhoun County" said tournament director, Austen Rivera.
The tournament committee would like to thank the following businesses for their support : Bay Flats Lodge, Seadrift Chamber of Commerce, Coastline Trailers, Dow Chemical, Chris's Marine, Momentum Rentals, Dick's Food Store, Ineos Nitriles, The Screen Shop, Barefoot Guide Service, and Etch of Class Awards.