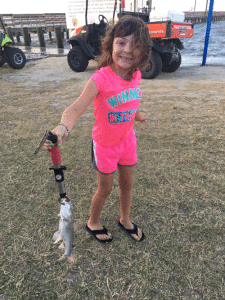 The third annual Kid's Fishing Tournament was held in conjunction with the Seadrift Shrimpfest on Saturday, June 17, 2017 at the Bayfront Park Pavilion. The activity offered young children from ages 2-13 an opportunity to get their fishing lines and nets wet, spend quality family time and compete for prizes. A goodie bag and T-shirts were provided for all registered participants.
The event's participation has increased each year and a total of 52 participants braved the windy conditions and choppy water on Saturday morning from 7:00-9:00 am. In addition to the fishing activities, the participants were provided an educational segment about the parts of a crab by Robin Stuckley prior to the first ever crab race. For those choosing the fastest crab to leave the circle, prizes were awarded. This event was presented and sponsored by the Middle Creek Red Angus Ranch of Schulenburg.
The fishing competition resulted in trophies and a variety of awards provided by activity sponsors such as fishing poles, nets, tackle boxes, and other related fishing equipment. The items were presented to the winners as follows by County Judge, Mike Pfeifer.
Biggest Fish
Ages 2-5 Rostyn Semmler
Ages 6-9 Adysen Janacek
Ages 10-13 Graylen Adams
Smallest Fish
Ages 2-5 Paisley Hadley
Ages 6-9 Wade Couch
Ages 10-13 Mia Salazar
Most Fish Caught During the 2 Hour Time Frame
Paisley Hadley – total of 6 fish
Largest Crab Adysen Janacek
Smallest Crab Adysen Janacek
Hard Luck Award Tayleigh Mahan
*The Hard Luck trophy was determined by Texas Parks and Wildlife employees and presented by Ms. Chelsea Bailey.
Many thanks go out to those who supported this year's Kid Fish. An activity of this nature required the active participation and support of many. Volunteers from the First United Methodist Church Seadrift and Precision Accessories took the lead for the activity and worked to register the children, measure and record the entries, and dispense the goody bags and T-shirts. Other financial sponsors included the following:
Chunky Monkey Seafood
Port Lavaca Auto Group
Texas Salt Water Fishing Magazine
First United Methodist Church Seadrift
Tax Depot
Precision Accessories
Bay Breeze Real Estate
Charlie's Bait Camp
Team Tram Sports Boats
Middle Creek Red Angus Ranch