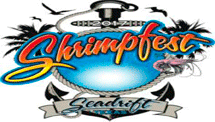 On behalf of the Seadrift Chamber of Commerce, we would like to "Thank" all of our sponsors for Shrimpfest 2017. Without your support & partnership, the Shrimpfest would not have been successful. With the success, we will give back to our community. We did this as a team!
Shrimpfest Sponsors
City Of Seadrift
Bay Flats Lodge
Coastline Trailers
Transport
HEB
JC Custom Boats Inc
First National Bank
Port Lavaca Auto Group
Precision Accessory
Dow Chemical
Dick's Food Store
Seadrift Coke L.P.
The Tax Depot
Bay Breeze Real Estate
Bayside Express
Taurus Services LLC
Barefoot guide service
Testengeer Inc
FUMC
Ineos
Charlie's Bait Camp
GBRA
Etch of Class
The Screen Shop
The Texas Saltwater Magazine
Donald Goldman, CPA
Wavenet Wireless
Victoria Web Design
Momentum Rental & Sales
Chunky Monkey's
Melstan Feed
ICE For U
Military Veteran Peer Network
We would also like to "Thank" all that donated to our Shrimpfest Raffle. We will give back to our community.
Shrimpfest Raffle Donors
Capt. Randy Rabe
William Woolridge
Capt. Bobby Lambright
Benji Ondreas
Capt. James Cunningham
Capt. Brett Caron
Capt. Nathon Beabout
Jeremy Sanders
Poco Loco Lodge
Ben Brown
American Classifieds
Austen Rivera
Tin Roof Kitchen and Home
Precision Accessory
Charles Schons
Bubba's Cajun Seafood
Seadrift Lawn and Home Services
Jenny Moe's Diner
Shrimp Shack
B&B Charcoal
La Antigua
Barkett's
Ondreas
Bayside Express
5C Ranch
Froggie's
La Terraza
We look forward to continuing our partnership!!! Thanks to all our volunteer's that help make this happen! We appreciate your time & efforts.
Seadrift Chamber of Commerce, Kristine Metcalfe – President