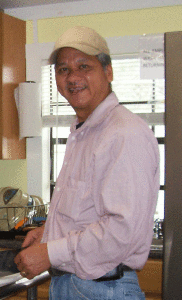 Thach 'Rocky' Van Le of Seadrift, Texas passed away on November 13, 2017 at the age of 52. Rocky was born on August 28, 1965 in Vietnam. He was the owner of Rocky's Noodle House.
Rocky is survived by his wife Phuong Pham, daughter Christina Nguyen, sister Lam Le and brother Ryan Le.
Funeral Services were held Friday, November 17, 2017 at St. Patrick Catholic Church, Seadrift, Texas with Fr. Phi Nguyen and Fr. Tommy Chen officiating.
Burial followed at Earthman Resthaven Cemetery in Houston.
Condolences may be mailed to the family at PO Box 831, Seadrift, Texas 77983. Words of comfort may also be shared with the family at www.richardsoncolonial.com