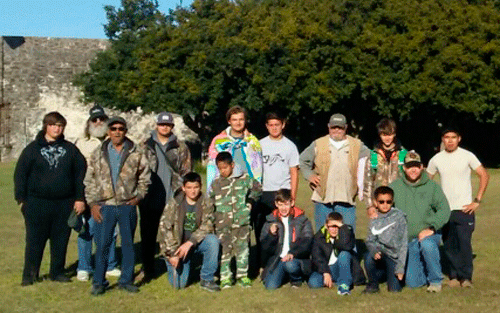 In 2017, BSA Troop 106 of Seadrift, Texas started off small with campouts at Camp Mauritz and what was Sunday Beach. Council Camporee in April saw Craig Lopez tapped out for the Order of the Arrow. He went through the Ordeal Ceremony in May.
Summer Camp at Camp Karankawa saw three boys and three adults attend. They were Craig Lopez, Marshall Arlitt, and Mitchel Arlitt and Leaders Patrick Henley, Ron arlitt, and Carson Recher. Later this summer, Mitchell Arlitt completed his Eagle Scout project of painting the old POC Jail for Precinct 4 of Calhoun County. Marshall Arlitt completed his Eagle Scout project of painting the exterior walls for Fisherman's Chapel.
After the Solar Eclipse of 2017 and Hurricane Harvey, the troop saw some new Scouts join. We went to the La Salle District Camporee at Presidio La Bahia in Goliad. Scouts attending were Sam Thumann, Gavin Gosnell, Nick Brigger, Mitchell Arlitt, Marshall Arlitt, Jordan Blevins, and Ethan Spencer. Webelos attending were Dwight Beaver, Jeremiah Mayorga and John Jacobs. Adults attending were Patrick Henley, Ray and Joseph Mayorga, Louis Warren, and Russell Cady. The boys won First Place Overall with First Place wins in Plank Walk, First Aid, String Burning and Compsite Inspection. Also, they took 3rd place in Patrol Flag and Knot Tying relay.
The boys have earned merit badges in Communications, Personal Fitness, Citizenship in the Community, Basketry and Electronics. Craig Lopez advanced to Star Rank. Sam Thumann, Nick Burgger, and Gavin Gosnell advanced to Second Class.
Our next campout is scheduled for December 15 & 16. The year 2018 will have us at Lost Pines Scout Reservation in Bastrop, Texas during the month of July. A fund raiser will be held in March.
We meet Monday nights at the Scout Hall on Main St. in Seadrift, 7:00 p.m. to 8:00 p.m. For more information or questions answered, call or text Patrick H. Henley at (361) 489-1259.