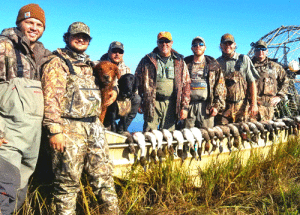 Round 2 of cast'n and blast'n, its going to be a good round. Round 1 was a great success with P's and D's (Puddlers and Divers). The Puddlers were Pintails, Gadwalls, Widgeon and Teal. A few Boot Lips also came back in Ryders's cotton candy jaws. The Pintails seemed to be up in numbers around here and those are my favorite. We actually shot some drakes with surprisingly long tails. Their decoying antics are so awesome, I personally think they decoy the best, they look like little angels coming down from heaven. On the Diver side of things, redheads poured in the decs by the hundreds. Redheads really commit to the spread once they take that 1st look. Talking with some other duck hunters we agreed there were a bunch of Buffleheads already here. We had 1 hunter who shot a real pretty drake that he took to his taxidermist.
Billy, booked in several groups of duck hunters that were great shooters, so it made my numbers go up so far this year. We had calm and clear conditions on some of the days which is great for mosquitoes, but not for ducks. But the duck numbers have been so good we were able to kill limits of P's and D's. Despite the calm that comes before the norther and after we SMASHED 'em.
Fishing has also been really good. Trout and Reds with an occasional flounder are filling zip lock bags. Flounder Gigging is back and the giggers are poking some monsters. 5, 6, and 7 pounders are pretty common if you hold off on the smaller ones. Remember its only 2 until December 16th then it goes back to 5 flounder per license holder.
The other day we went scouting in West Matagorda and Port O' Connor and saw a bunch of ducks scattered all over shallow flats and on the bay front. The mild weather has fishermen out in some of these spots, mostly in front of the bay's drains.
Wow! I just looked out the window and saw another flock of ducks flying the Lagoon. Holy cow there's another flock. DUDE!! I'm getting pumped up for the opener. I'm telling you it should be a barrel burner.
The Saltwater Lodge is booking daily events. Billy Rhyne is the new contact to book your next outdoor outing. Give Billy a call and he can give you the latest scouting report. The NEW LODGE number is: (713) 907 4796.
We wish everyone a Coastal Christmas and a Coastal New Year!!!
That's because everything is better on the Coast,
Captain Jeff Larson, 281 217 0399