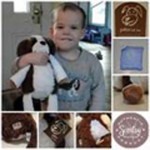 The D.I.V.A Girl (Dream-Inspire-Volunteer-Achieve) program for girls 7-17 located in Seadrift is hosting a "BUDDY DRIVE." The goal is to DONATE 84 Buddy's to THE HARBOR for children in Calhoun County effected by abuse or neglect.
If you would like to help the D.I.V.A Girls achieve this goal please contact Lisa 361-648-6782 or email Lmclean1967@yahoo.com. The cost of 2 buddy's is $26.68 total. –Thanks for your generosity this holiday season. By purchasing these buddy's you are helping children in the D.I.V.A Girls program and The Harbor

Ordering while supplies last and before Dec. 5th so they can be presented to The Harbor by Dec. 18th!!
For more info about D.I.V.A Girls: www.Divagirlnow.com
For more info about The Harbor: http://harboradvocacycenter.org
Lisa McLean
361-648-6782