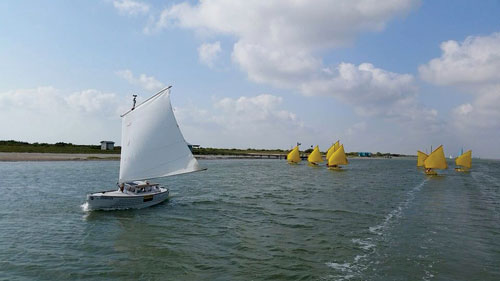 The Seventh Annual Texas 200 was held on June 9 – 13, 2014. The five day sailing trip began in Port Mansfield and ended at Magnolia Beach with a Shrimp Boil. There were sixty-two boats which participated of which forty-nine made it to the finish. It was a record setting year in terms of participants. The event usually averages thirty-five to forty boats.
"The sailors test themselves and gain knowledge which you can't get any other way," said Chuck Pierce who is on the Board of Directors. "The purpose of the Texas 200 is to build self-sufficiency and self reliance. The participants gain a degree of self confidence."
The route changes annually; however every third year the original route from Port Mansfield to Magnolia Beach is sailed which helps to add continuity to the event. The Texas 200 is hosted in June because of weather. The wind plays a huge factor into the challenge.
Indeed, the first day of sailing there were thirty to thirty-five knot winds but the true challenge was past Army Hole and Port O'Connor when the sailors experienced a strong headwind from the east.
"It's great to get coverage about the Texas 200 to show that our county is not only a fishing community but that there are a vast variety of activities which we have to offer," said local sailor, Jack LaBarge. This is Jack's fourth time to participate.
There are a variety of boats that are entered from 8' puddle ducks to 30' schooners. This year however a very special fleet of boats were sailed. Fourteen puddle ducks united as the 'Texas 200 Ducks' whose mission was to benefit the Livestrong Foundation.
Leading the pack was Chuck Pierce on the ECDuck. The project has very special meaning as Chuck is a cancer survivor along with dad, sister and wife. "The puddle duck has a line down the center," he explained. "One side has 'In Memory of' and the other 'In honor of.' Everywhere I go, people sign the boat — to date there are over 300 names on the ECDuck."
He was also happy to report that all fourteen puddle ducks crossed the finish line and raised over $12,000 for the Livestrong Foundation.
The Texas 200 would like to thank Shiner Bock, a continued sponsor and official beer of the Texas 200, who provided beer and Bubba's Cajun Seafood which is located in Seadrift and provided the shrimp for the boil. Find out more at www.texas200.com, to donate to the Texas 200 Ducks visit http://laf.livestrong.org/site/TR?team_id=11351&fr_id=1760&pg=team.