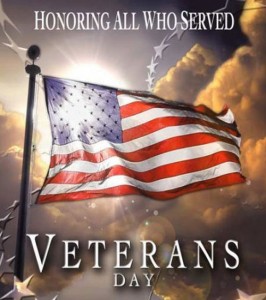 Veterans Day is celebrated on November 11, but truly every day is a day to honor and remember those who have served and are currently serving our Country. There are no veterans of World War I left to tell their stories, so we are pleased to present the following article by Peter DeForest, giving us a glimpse into the lives of pilots on those long-ago battlefields.
World War I, which lasted from 1914 to 1918, was a bloody war, fought in muddy trenches and overwhelmed with death. Yet a few soldiers escaped this fate by becoming pilots. They volunteered to fly when just going up in an airplane took a lot of courage. World War I fighter pilots flew in very primitive airplanes made of wood and fabric, held together mostly by wire and glue. The engines and their fuel systems were very primitive and unsafe by modern standards. Parachutes and other safety equipment didn't become standard equipment until much later in the war. World War I pilots had the average life expectancy of a few weeks at best. A flying "ace" is a military pilot credited with shooting down several enemy airplanes during combat. The number of victories, or planes shot down required to qualify as an ace is usually considered to be five or more. Ace fighter pilots were often portrayed as modern knights in the media, and many became popular heroes.
Manfred von Richthofen is considered the top ace of the war, being credited with 80 victories. Widely known as the Red Baron, Richthofen was a German fighter pilot with the Imperial German Army Air Force. He was born into a prominent Prussian family in 1892; his father was a "Baron". As a boy, Manfred enjoyed riding horses and hunting, he and his brothers hunted wild boar, elk, birds, and deer. Manfred was eventually sent to Military School graduating in 1911. Originally joining the cavalry after World War I broke out, Manfred transferred to the Air Force in 1915, becoming a pilot in 1916. He quickly distinguished himself as a fighter pilot, and in 1917 became leader of the air group Jagdgeschwader 1, better known as the "Flying Circus" because of the bright colors of its aircraft. The unit had a number of skilled aces and was transferred from one problem area of enemy air activity to another as needed. By 1918, he was regarded as a national hero in Germany, and well-known among opposing forces. Manfred von Richthofen was shot down and killed near Amiens France on April 21, 1918. There has been considerable debate regarding the circumstances of his death as to whether he was shot down by another airplane or by ground fire. He remains perhaps the most widely known fighter pilot of all time.
Ernst Udet was the highest scoring German ace to survive the war; he was born in Frankfurt in 1896 and raised in Munich. Fascinated with aviation as a young boy, he used to hang out at a nearby airplane factory and an army airship detachment. After World War I started, Udet originally served as a motorcycle messenger on the front lines. After recovering from an injury he tried to become a pilot but was unable to get into the pilot training offered by the army. After learning that if he were a trained pilot, he would immediately be accepted into the Air Force; he obtained his civilian pilot's license at the end of April 1915 and joined the German Army Air Service. His 62 victories were second only to Manfred von Richthofen; his commander in the Flying Circus. Udet rose through the ranks to become a squadron commander under Richthofen, and later under Hermann Göring. Typical of the young age of World War I pilots, Udet was 22 years old when the war ended. World War II saw Ernst Udet again serving in the German Air Force as Director-General of Equipment. Ernst Udet committed suicide in November of 1941; the true cause of his death was concealed from the German public at the time.
René Paul Fonck was a French ace who ended World War I as the top Allied fighter ace with 75 victories. Fonck was born 1894 in the village of Saulcy-sur-Meurthe in France. Interested in airplanes since he was a boy, he was initially rejected for the air service when drafted into the military in 1914. In early 1915, he was finally accepted into flight training and completed his training four months later. His skill as a pilot led to him being assigned to the elite "Escadron de Chasse" Squadron where he quickly made a name for himself, attaining ace status in May of 1917. Fonck was made a Commander of the Legion of Honor after World War I and returned to civilian life publishing his war memoirs in 1920. Eventually returning to French Military Service, Fonck rose to the rank of Inspector of French fighter forces from 1937 to 1939. Fonck's contact with his former World War I enemies Hermann Göring and Ernst Udet cast a shadow upon his reputation during the German occupation of France during World War II and led to allegations of collaboration with the German occupying forces. After World War II, a French police inquiry about his supposed collaboration with the Germans completely cleared Fonck; he died in his apartment in Paris at the age of 59 in 1953.
Edward Corringham "Mick" Mannock was the leading British flying ace with 61 victories. Born in Ireland in 1887, the start of World War I found Mannock in Turkey working as a telephone engineer. Joining the military in 1915, he transferred to the Royal Flying Corps in 1916. His determination and flying ability earned him promotions eventually being appointed as a squadron commander. After seeing other pilots burning in their planes after being hit by enemy gunfire, he developed a phobia about burning to death. The stress of combat began to wear on him and he also became sick with a case of influenza. When ordered home on leave, he cried openly. Mannock returned to the front in July of 1918 and around this time he also started having premonitions of his death. On July 26, 1918 just days after warning fellow ace George McElroy about the deadly hazards of flying at a low level into an area with enemy anti-aircraft guns, Mannock did just that and was killed when his plane was hit, set on fire by enemy ground fire, and crashed. He was a pioneer of aviation tactics, and was renowned for his smart but aggressive leadership in the air. Mannock won the Military Cross twice, was one of the rare three-time winners of the Distinguished Service Order, and would be posthumously awarded the Victoria Cross. He is regarded as one of the greatest fighter pilots of the war.
Albert Ball was another of Britain's flying aces with 44 victories. Born in 1886, as a child Albert liked to tinker with engines and electrical equipment. He was also raised around firearms and became an excellent shot. Joining the Army when World War I started, he served in different units before gaining his pilots license in his spare time. He transferred to the Royal Flying Corps in 1915 and was sent to the front in 1916. He quickly became an ace, and his victories received considerable publicity. He was the first British ace to become a household name, and found that his celebrity was such that he could not walk down the streets of his hometown while on leave without being stopped and congratulated. He died in May of 1917 at the age of 20 when his plane crashed in a field in France, sparking a wave of national mourning and posthumous recognition, which included the award of the Victoria Cross for his actions during his final tour of duty. An investigation revealed that he had not been shot down but had experienced engine trouble when his plane crashed. His most renowned enemy, Manfred von Richthofen, upon hearing of Ball's death said that he was "by far the best English flying man".
Arthur Henry (Harry) Cobby, the leading fighter ace of the Australian Flying Corps during World War I had 29 victories in spite of the fact that he was only in active service for less than a year. Born in Melbourne Australia, Cobby was a bank clerk when World War I broke out, but was prevented by his employer from enlisting until 1916. After completing flight training in England, he served on the Western Front in Europe, operating Sopwith Camel fighter planes. His achievements as a fighter pilot were recognized with the Distinguished Service Order and the Distinguished Flying Cross. After the war ended, Cobby remained in the Australian Military Reserves. Re-joining the Australian Air Force at the start of World War II in 1939, Cobby held senior posts including Director of Recruiting and Air Officer Commanding North-Eastern Area. In 1943, he was awarded the George Medal for rescuing fellow survivors of an aircraft crash. Retiring from the Air Force in 1946, Cobby served with the Department of Civil Aviation until his death in 1955.
Edward Vernon Rickenbacker was the top United States fighter ace in World War I. Born in Columbus Ohio; Rickenbacker loved machines as a child and experimented with them, encouraged by his father's words: "A machine has to have a purpose". Rickenbacker became well known as a race car driver, competing in the Indianapolis 500 four times before World War I, and earning the nickname "Fast Eddie". In 1917 the United States declared war on Germany. Rickenbacker enlisted in the United States Army and was soon training in France with some of the first American troops. Because of his mechanical abilities, Rickenbacker was assigned as an engineering officer at the U.S. Air Service's pursuit training facility, where he practiced flying during his free time. He learned to fly well, but because his mechanical skills were so highly valued, Rickenbacker's superiors tried to prevent him from becoming a pilot.
Rickenbacker demonstrated that he was a qualified pilot, and the military put him in one of the U.S. air combat units; the 94th Squadron, informally known as the "Hat-in-the-Ring" Squadron after its insignia. On May 28, 1918, Rickenbacker shot down his fifth plane to become an ace and was awarded the French Croix de Guerre medal. Rickenbacker ended World War I with 26 victories and was awarded the Medal of Honor. After World War I, Rickenbacker started an automobile company that later went bankrupt, owned the Indianapolis Motor Speedway for 13 years, and managed Eastern Airlines helping to turn it into a major airline. During World War II Rickenbacker was tasked with touring bases to review conditions and operations. During a flight over the Pacific Ocean in 1942, the plane he was on crashed. Rickenbacker and the other survivors were adrift in life rafts for 24 days before being found. After World War II, Rickenbacker managed Eastern Airlines until 1959; he died on July 23, 1973.
It is hard not to have respect for World War I fighter pilots, so many died at such a young age, a few are remembered, others completely forgotten with unvisited headstones. Some were never recovered from their aircraft crash sites or properly identified before being buried in a grave with other unknown soldiers.