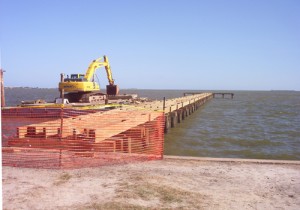 Work began June 4 on the long-awaited Seadrift pier. The Pier will be 300' long + 12' wide T-head making the length 312'. The Pier will be 8' wide with handrails and lighting. The T-head is 50' long.
It will be constructed approximately 2' above the seawall and have an accessible ramp which will join a concrete sidewalk around the flagpole, connecting to a concrete sidewalk that will be attached to an accessible ramp at the bluff going up to street level . There will be three or four concrete handicap parking spaces tied to the accessible ramp.
The pier's location is where 6th Street intersects Bay Avenue.
The expected completion date is not yet known. After the current "wood work" is completed, there will still be concrete work to be done for sidewalks and a ramp, lights to be installed and wired, and a parking area to be constructed.
The funds have been provided through Commissioner's Court from the CIAP program (Coastal Impact Assistance Program). CIAP is funded with federal royalties from offshore oil and gas leases and assists those states that have supported or been impacted from oil and gas exploration and development along the Outer continental Shelf. In Calhoun County, the County applies for these federal funds and then periodically funds various projects in different areas of the County over the years. Some of these same CIAP funds are also going to be used to repair the Port Alto Beach area.