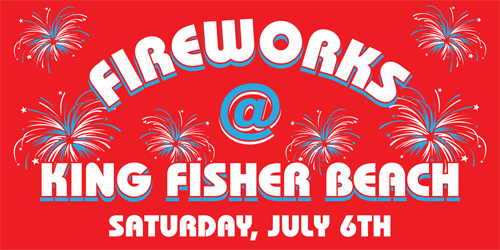 Who, years ago, could have imagined that one person shooting off a bag of fireworks on the beach for the entertainment of his family and friends would grow to become the big event that the Fourth of July Fireworks Show has become? And this year, thanks to the efforts of Fireworks Chairman Donnie Haynes, the show will be bigger than ever.
This grand celebration of Independence Day will be held this year on Saturday, July 6th at King Fisher Beach. The fireworks begin at dark, but come early, bring your lawn chair, and stake out your viewing spot on the beach. Of course, the display can be seen for miles, but looking up at the beautiful lights bursting almost over your head is an experience you won't want to miss.
"The Port O'Connor Chamber of Commerce has invested 25% more on fireworks this year, insuring that the show will be the biggest and best yet," said Bill Tigrett, Coordinator of the Fund Raiser Campaign. "This will be the 45th Year the Chamber has been sponsoring this Fireworks Show.," he said. "And it's always been free to the public, to all who want to celebrate Independence Day with us."
But "free" is not exactly "free". The cost for this year's show will be $25,000. If you are a Port O'Connor resident or property owner, you may have already received an invitation to assist with a financial gift. You may have also seen donation boxes at local businesses. "We need you," say the signs and ads. "Any amount, large or small, is truly appreciated," said Mr. Tigrett. "The celebration is more costly each year," he said, "but we want to continue to celebrate the Fourth of July in a grand manner, signifying this grand occasion, and share with all who would like to be a part, and we do 'need you' to help keep it going."
Donations should be directed to: POC Chamber Fireworks; Port O'Connor Chamber of Commerce, Post Office Box 701, Port O'Connor, Texas 77982.
Plan to come early Saturday, July 6 and enjoy some fun at the beach. Local and out-of-town vendors, offering food and other items of interest, will be set up on King Fisher Beach all day. You can also enjoy visiting our restaurants and other businesses, checking out the fish being brought in to the docks, and strolling the bird walk at Boggy Nature Park.
Although you can find everything you need here, you may want to come prepared to settle in and watch the show with lawn chairs/blankets, insect repellent, and your own chilled beverages and snacks. The Chamber makes every effort for this to be a fun-filled and safe celebration for you and your family. Ample security will be in place and emergency personnel will be stationed nearby. Port O'Connor welcomes you to come enjoy this exciting Fireworks Show.
Keep in mind that the beach road will be one-way all day and the road will be closed just before the show begins.