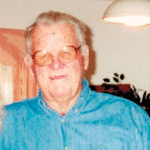 Owen Daniel Raby, 90, of Port O'Connor passed away on June 8, 2017. He was born in Port O'Connor, TX on April 27, 1927 to the late Owen and Helen Johnson Raby.
He was preceded in death by his wife Joyce Helms Raby; sons Dennis and Rocky Raby; sister Beatrice; brothers Robert Kelly and Joe Donald; and his parents.
Dan is survived by his son Mike Raby and wife Bridget Raby of Port O'Connor; sister Retha Mae Orsak; grandchildren Brandon, Nicholas, Amanda and Alan; great-grandchildren Austin, Aria and Oliver.
Graveside services were held on Tuesday, June 13, 2017, at Seadrift Cemetery.