Two Winners Take Home $500 in Merchandise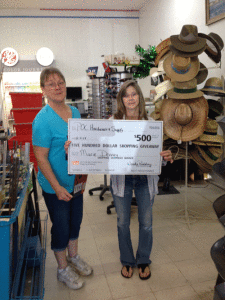 The fall season just got a little more golden for POC Hardware & Supply and Nathan O'Neill and Maria Denney.
On November 30, 2017 Nathan O'Neill and Maria Denny were chosen as winners of the POC Hardware $500 Shopping Giveaways. Nathan O'Neill and Marie Denny were selected from more than 200 entries submitted at the store from August 28 – November 13, 2017.
Teddy Hawes said that POC Hardware is delighted to provide one of its customers with the opportunity to make their fall projects a little more exciting. "Everyone has a few extra chores this time of year, and we're glad that Nathan and Maria will be able to choose whatever tools he or she wants to get the job done. We thank all those who entered the giveaway for their participation."
POC Hardware is located at 1738 West Adams, Port O'Connor, and has been serving customers in the town area for 30 years. POC Hardware offers a complete line of building supplies for everyone from the do-it-yourself homeowner to the professional. POC Hardware has been a Do It Best Corp. member since 2013.
Based in Fort Wayne, Indiana, Do It Best Corp. is the only full-service U.S. based, member-owned hardware, lumber and building materials buying cooperative in the home improvement industry. With annual sales of over $3 billion, Do It Best Corp is the second largest co-op in the industry, serving 3,800 member-owned stores in the United States and 53 counties.