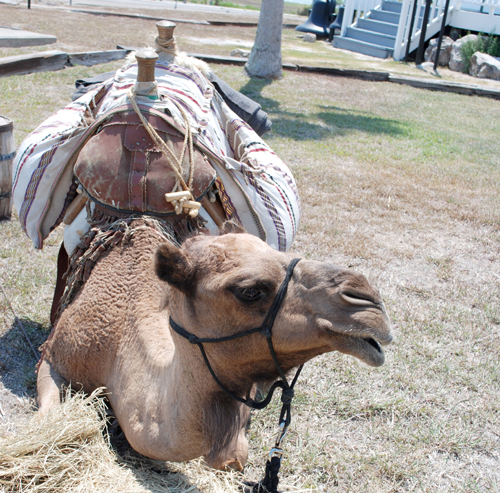 Chairperson Phil Ellenberg began the celebration on August 20th by welcoming all to the 125th anniversary of the 1886 hurricane in Indianola. The morning was full of history and appropriately set up right in front of the LaSalle monument. A couple of unique visitors were also in attendance from The Texas Camel Corps…
Camels were first brought via Indianola from North Africa beginning in 1856 for the usage of a peculiar Army experiment. The purpose for importing the camels was to use them as pack animals. In 1995 after owner and zookeeper, Doug Baum learned of the US Camel Corps — combined desert ecology and the Texas Camel Corps was born.
As the celebration continued, Boy Scout Troop 361 then presented the colors and pledges, plus performed a Native American Welcome Song. The heat quickly set in and the morning celebration continued with music, recognition of descendants and a diorama was revealed. Reverend Howard Hartzog concluded the morning portion with a benediction.
Port Lavaca Mayor Jack Witlow commenced the afternoon ceremony at the Bauer Community Center. The festivities continued, following a poem of Indianola read by Tommy Garrison.
Mr. Garrison began by first describing the Indianola poem, "The Queen City of the West was best depicted as beautiful and successful." It was denoted to be full of wealth, health and prosperity. He went onto read the poem setting the stage for us following Indianola's final demise, the hurricane of August 20, 1886. "No signs of life remained and few homes stood," he read.
Following the reading of the Indianola poem, Patsy Hand took the stage and explained the journey to how the Indianola Immigrant Database came into existence in 1994. The database was developed through her efforts and the Victoria Regional History Center. One may search by surname alphabetically for immigrants that arrived via Indianola. You may also submit information to the center for it to be updated.
Music was performed throughout the day by Boy Scout Troop 361. Brian Burns and the Folklorico Dancers performed two songs, "Favico Navico and Naranjo."
Yolanda Chaco Beniquez of California explained the period attire, and how the dances were celebrated to commemorate gatherings. The dress attire is a precise reflection of the dancer's natural environment and from where the dance originated. Some attire was often a reflection of political times and displayed the evolution of fashion. "Color represents the readiness of the people to have a fiesta," said Yolanda.
Not only did the camels attend, but many attended from surrounding counties to celebrate the town once called, Indian Point. If you were not in attendance you missed out on many other presentations which were given with elaborate detail about the Chihuahua Trail, and African American, German and Tejano descendants.